Friday, October 22, 2021
Friend,
Welcome to the KDP Weekly Newsletter – the Kansas Democratic Party  #KSLEG, Mental Health, LGBTQ+ Rights, Small Businesses, Governor Laura Kelly, COVID-19, Democrats Care, Social Media Updates, KDP Merch and more!
Interested in helping the Party get out our messaging to encourage Kansans to vote blue? Sign up for our new Letter to the Editor program here!  
KDP TRAININGS AND UPDATES
In an effort to ramp up training for upcoming elections in 2021 and beyond, the Kansas Democratic Party, together with the DNC Best Practices Institute, are excited to offer a series of virtual trainings over the course of the next few months. These programs will enhance the skills of progressive activists and volunteers by ensuring comprehensive training is free and accessible for Democrats all over the country. The training and its description are listed below:
BPI State Party Leadership and Staff Resources

The BPI's 9-part DEI Training Course is now available for use by County Parties. Learn more about the process for implementing the BPI DEI Training Course in your state HERE. Those interested should email bpi@dnc.org to schedule a call with the BPI team.

Democrats Care Projects

Are you working on a community service project in your area? KDP and the DNC would like to amplify your work as part of the new Democrats care project.
To learn about the program, you can read more here.

The DNC Disability Caucus Council

The DNC Disability Council is in the process of collecting the signatures needed from members to convert to a Caucus. If you are interested in signing on to support this transition, please use this link.

How has the Biden Administration impacted you? Let the DNC know!

The DNC is putting together a story bank of real people who have been positively impacted by the Biden agenda. They are looking for people from every state, every identity, every professional, and activist behind every issue! If you are interested, please fill out this form.

Looking to support a campaign in 2022? Check out the DNC's Campaign Readiness Project!

The Campaign Readiness Project is a train-to-hire bootcamp pipeline at the DNC with the goal of supporting states in their recruitment, training, and hiring of diverse, talented, and local staff for specific roles and skill sets on coordinated campaigns. The application closed on October 6, but the bootcamp will be held virtually October 22-24. To learn more, click here.

Get out the Vote Calls with NJ Forward

Join NJ Forward for a phone bank on Zoom to talk with people across New Jersey about the stronger and fairer New Jersey that Democrats up and down the ballot are going to continue to work towards. You'll need access to a computer & phone for the phone bank. To learn more, click here.

NDTC Staff Academy

NDTC Staff Academy is an intensive, 10-week program designed to recruit, train, and connect new staff to paid Democratic career opportunities – no prior paid campaign experience required! Cohort members receive training from campaign experts and Democratic leaders, and by the end they have a network of support to launch them into campaigns across the country. Staff Academy is also free for anyone accepted.
Applications are due October 31. You can learn more and apply here.

Dickinson County Democrats Welcome New Executive Team

The Democratic Party of Dickinson County held officer elections on October 14. The new County Chair is Rebecca Perkins. Former Chair Jo Schwartz will remain on the Executive Committee as Secretary, replacing Janet Fadden. Current Vice-Chairman Ronald Sare and current Treasurer Marty Fadden will remain in their positions.

COVID-19 Public Education Campaign

It is crucial that everyone receive the COVID-19 vaccine for the safety of themselves, their loved ones, and the general public. For more information on how to get the vaccine, click here.

Opportunities for NJ and VA Elections

New Jersey and Viriginia are in the final push for New Jersey and Virginia and need our help! If you would like to volunteer to help them reach as many voters as possible, click here for more information.
Press Releases
KANSAS INMATES' MENTAL HEALTH WAITS FORCED TO WAIT MONTHS FOR MENTAL HEALTH TREATMENT
What's happening?
(Associated Press) — Inmates with mental health issues are waiting months to get the medication and treatment they need to be deemed competent to assist in their own defense because a state hospital is so overtaxed.
Douglas County Sheriff Jay Armbrister said the situation is so bad that the case of one man with severe mental health issues took six years to make it through the court system. The man ultimately was sentenced to 16 months — less than a quarter of the amount of time he had been incarcerated, the Lawrence Journal-World reported.
Armbrister said the case encapsulates the "dark underbelly" of the state's criminal justice system, which he believes fails to properly account for the mental health of those who are held in jail prior to conviction.
Where can I learn more?
PRAIRIE VILLAGE BANS LGBTQ+ CONVERSTION THERAPY
What's happening?
(The Kansas City Star) — The Prairie Village City Council on Monday agreed to ban controversial conversion therapy for LGBTQ youth.
The council voted 11-1 to prohibit licensed medical or mental health professionals from using the practice on minors. The practice tries to change a person's sexual orientation or gender identity and is condemned by the medical community.
Councilwoman Inga Selders thanked the LGBTQ advocacy group Equality Kansas, which has pushed for an end to the practice, emphasizing the harm conversion therapy does to minors.
"The impact of these efforts has certainly made Prairie Village a more open and welcoming place to live, work and grow up in," Selders said. "I have faith that through the advocacy and education efforts, our neighboring communities will enact conversion therapy bans in the coming months, and eventually a path forward will be paved for a statewide conversion therapy ban."
Where can I learn more?
KANSAS CITY YOUTH'S MENTAL HEALTH BROUGHT TO THE SPOTLIGHT
What's happening?
(The Kansas City Star) — If it weren't for the school counselor at her middle school, one Shawnee Mission teen might not be alive, her father said…
Most schools in the Kansas City area — and across the country at large — don't meet the American School Counselor Association recommendation of one counselor for every 250 students. That means teens who are struggling in ways their parents don't see might never get help.
Twenty percent of children and youths in school have diagnosable mental health disorders, including anxiety, ADHD and depression, according to the National Institute of Mental Health.
Where can I learn more?
KANSAS MINORITY AND WOMEN-OWNED BUSINESSES' ACHIEVEMENTS HONORED
What's happening? 
(JC Post) — Governor Laura Kelly today honored minority- and woman-owned businesses and others who help them achieve success as part of Kansas Minority Enterprise Development (MED) Week…
Today, minority- and woman-owned businesses have a major economic impact that translates into the creation and maintenance of jobs. These jobs not only sustain the individual worker, but contribute to the economic security of their families, the economic vitality of their communities and of the nation.
"MED Week is a time to spotlight so many outstanding achievements in Kansas, and also showcase the resources available to Kansans who are already in business, or considering a new venture," Office of Minority and Women Business Development Director Rhonda Harris said. "It's important that we recognize these efforts during MED Week and every week."
Where can I learn more?
INCREASING VACCINATION OPTIONS FOR CHILDREN AGES 5-11 TO AFFECT 265,000 IN KANSAS
What's happening?
(KSNT) — National preparations are underway as the White House and pediatricians eagerly await the authorization of Pfizer's vaccine for kids ages 5-11.
According to a spokesperson for the Kansas Department of Health & Environment, there are about 265,000 Kansans eligible in this age group. However, the state will not be disclosing plans for vaccinating this age group right now, as they await final authorization…
Federal regulators will meet over the next two weeks to weigh the benefits of giving shots to kids, after lengthy studies meant to ensure the safety of the vaccines.
Where can I learn more?
What's happening?
Make sure to follow Kansas Dems on Facebook, Twitter, and Instagram to keep up with the latest party news, events, and updates!
Here are some of our top posts from this week.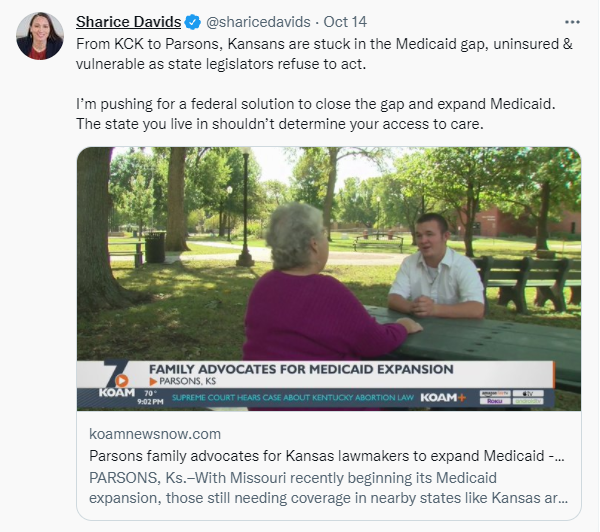 Be sure to view KDP Merch at the Kansas Dems Online Store. Make your voice heard by picking up our new shirt from the KDP Store. And remember each purchase includes a donation to the party to help elect Democrats across the state.
Sunday, October 24th:
Linn County Democrats Monthly Meeting
Tuesday, October 26th:
Riley County Democratic Party Monthly Meeting
Ellis County Democratic Meeting
Wednesday, October 27th:
Dickinson County Executive Board Welcome Meeting
Thursday, October 28th:
Johnson County Democratic Women South Meeting
Onward,
KDP Team
P.S. Did a friend forward this to you? Click here to subscribe!
---
Paid for by the Kansas Democratic Party, Yolanda Taylor, Treasurer
Kansas Democratic Party
501 SE Jefferson St
Suite 30
Topeka, KS 66607
United States